Let Us Build the Kitchen You've Always Dreamed Of
Welcome to Oak Creek Canyon Builders, your premier kitchen remodeling contractor in Kenwood, CA. As a dedicated and experienced remodeler, we offer top-quality kitchen remodeling services that will transform your kitchen into a beautiful and functional space.
You spend a lot of your time in your kitchen so you may as well have the kitchen you have always dreamed of having. Prepare meals for your family and friends in your newly remodeled kitchen by Oak Creek Canyon Builders.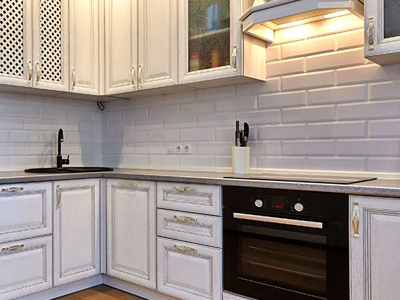 Why Should You Remodel Your Kitchen?
Remodeling your kitchen provides numerous benefits, enhancing both the aesthetics of your home and your daily life. Here are some compelling reasons to consider a kitchen makeover:
Improved Functionality: A well-designed kitchen can optimize workflow, maximize storage, and create a more efficient cooking experience. Say goodbye to cluttered countertops and hello to a well-organized and pleasant culinary space.
Enhanced Aesthetics: A kitchen remodel allows you to update outdated designs and create a visually stunning space that reflects your personal style. Choose from a wide range of materials, colors, and finishes to achieve the look you desire.
Energy Efficiency: Upgrading appliances, lighting, and insulation can result in improved energy efficiency, reducing utility costs and benefiting the environment.
Kitchen Remodeling Design Is Important
Every aspect of your kitchen contributes to its overall design and functionality. Here are key areas we focus on during the remodeling process:
Cabinetry and Storage Solutions: Well-designed cabinets provide ample storage while enhancing the aesthetic appeal of your kitchen. We offer a wide selection of cabinet styles, finishes, and organizational options to suit your needs.
Countertops and Surfaces: Choose from a variety of high-quality countertop materials, such as granite, quartz, or marble, to add beauty and durability to your kitchen. Select complementary surfaces, including backsplashes and islands, to create a cohesive design.
Flooring and Lighting: Select the perfect flooring material, such as hardwood, tile, or laminate, to elevate the look and feel of your kitchen. Well-planned lighting fixtures, including ambient, task, and accent lighting, make your kitchen a more comfortable and functional space.
Appliances and Fixtures: Upgrading to modern, energy-efficient appliances can greatly improve your kitchen's performance. From sleek and functional sinks to stylish faucets and hardware, we offer a range of options to suit your preferences.
Hire Only Reliable and Experienced Kitchen Remodeling Contractors
A kitchen remodel is a serious and investment – you can't rely on just anyone to get it done for you. Oak Creek Canyon Builders is a name you can trust when it comes to kitchen remodeling in Kenwood, CA. With years of experience and a commitment to exceptional craftsmanship, we provide reliable, high-quality services tailored to your needs. Call or contact us today for a consultation.